Wuhan Institute of Virology is master mind of reasearch work carried out to bring virus origin but its obvious present anti Coronavirus infectious spray needed further reasearch did intiated after it reported to take toll of 1.9 million people across globe.
WHO fact-finding mission arrives in China's Wuhan to investigate origins of Covid-19.WHO team comes 14 months after a Wuhan hospital detected the first Covid cases. Immediately upon arrival, the WHO team members were placed in 14-day quarantine.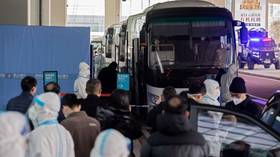 An expert team from the World Health Organization arrives in Wuhan, China, January 14, 2021.
Team of the World Health Organization (WHO) has arrived in the Chinese city of Wuhan to study the origins of the Covid-19 pandemic. The mission had been delayed for months as the global health body held talks with Beijing.
The WHO mission arrived in Wuhan on Thursday, Chinese media reported. TV channel CGTN said the investigators have to undergo "relevant quarantine procedures"before starting field work in the city, where the coronavirus was first discovered in late 2019.
WHO spokesperson Margaret Harris told CGTN that a team of ten experts from ten countries is part of a wider probe into the origin of the SARS-CoV-2 virus, which caused Covid-19.
"It's critical for the world to understand how this virus jumped from animals into humans, so that we could stop it [from] happening again,"she said, referring to the fact that the virus had been linked to bats during the early days of the outbreak.
Harris said the experts will specifically look into the earliest cases reported in Wuhan.
Earliers reports in media spreadover count coronavirus Lab experiments product as per details.
America's most senior government officials says the most 'credible' theory about the origin of coronavirus is that it escaped from a laboratory in China.
Matthew Pottinger, President Trump's Deputy National Security Adviser, told politicians from around the world that even China's leaders now openly admit their previous claims that the virus originated in a Wuhan market are false.
Further Pottinger adds that the latest intelligence points to the virus leaking from the top-secret Wuhan Institute of Virology, 11 miles from the market, saying: 'There is a growing body of evidence that the lab is likely the most credible source of the virus.'