Delhi: HM Rajnath Singh & BJP Chief Amit Shah at Nitin Gadkari's book release function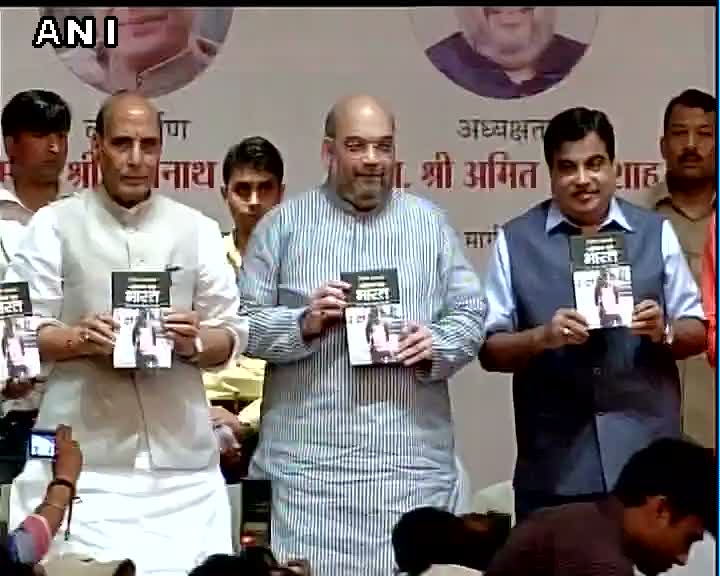 L'ISTITUTO ITALIANO DI CULTURA NEW DELHI È LIETO
DI INVITARE ALLO SPETTACOLO
THE ITALIAN EMBASSY CULTURAL CENTRE NEW DELHI CORDIALLY
INVITES YOU TO THE PERFORMANCE
MADE IN ILVA THE CONTEMPORARY HERMIT
INSTABILI VAGANTI
DOMENICA, 30 AGOSTO 2015 ORE 18.30
SUNDAY, 30TH AUGUST 2015, 6.30 PM
NATIONAL SCHOOL OF DRAMA, ABHIMANCH AUDITORIUM
BAHAWALPUR HOUSE 1, BHAGWANDAS ROAD
55 min.
FREE ENTRY, FIRST COME FIRST SERVED
Director: Anna Dora Dorno
Performer: Nicola Pianzola
Original songs and vocals: Anna Dora Dorno
Original music: Riccardo Nanni
Video: Nicola Pianzola
An original script based on real-life testimonies and poems from the workers at the Ilva steel plant in Taranto. MADE IN ILVA is a masterpiece of physical theatre, exploring the impact of the biggest steelworks of Europe on the environment and surrounding population. The performance is a perfect combination of extreme physical actions, sounds that become obsessive rhythms, original music, vocals and video projections. An emotional and poetic exploration of the alienation and oppression of a human body reduced to an artificial machine.
INSTABILI VAGANTI
Founded in 2004 in Bologna by Anna Dora Dorno and Nicola Pianzola, the company has carried on a daily work of research on the actor's craft and of experimentation of the contemporary languages. INSTABILI VAGANTI has produced performances, led workshops and special international training programmes and directed performing arts projects in different countries. The group has been working and collaborating with international teams of performers, musicians, video makers and visual artists. In the physical theatre of INSTABILI VAGANTI, the performer embodies the evoking ability of the poetic act and affirms its physical and emotional presence interacting with live music, visual art and new media. The aim is to update the tradition reworking its elements with the contemporary languages of the Performing Arts in order to find new ways of expression. A total theatre in which the performer's body and voice skills are the main channel to express feelings, emotions and truths.
MADE IN ILVA WORLD TOUR 2015
INDIA
27-30 August Workshop NSD – New Delhi
30 August MADE IN ILVA NSD – New Delhi
31 August Lecture Shiv Nadar University – Noida
11 September MADE IN ILVA ICCR – Kolkata
15 September MADE IN ILVA Jagriti Auditorium – Bangalore
19 September MADE IN ILVA Adi Shakti – Pondicherry
IN COLLABORATION WITH
THANKS TO
http://www.iicnewdelhi.esteri.it/IIC_NewDelhi/webform/SchedaEvento.aspx?id=1112
Best Regards,
Italian Embassy Cultural Centre
50- E, Chandragupta Marg (Entry from Nyaya Marg)
Chanakyapuri, New Delhi – 110 021
Phone: 0091-11-26871901/03/04
Email: iicnewdelhi@esteri.it     
Indian basketball teams set to participate in Beijing leg of the 3×3 FIBA World Tour
New Delhi/Bengaluru (14 August 2015): Two teams from India are set to participate in the Beijing Masters leg of the 2015 FIBA 3×3 World Tour that will be held on 15th-16th August in China. Fresh off their recent South Asian 3×3 qualifiers win in Colombo, the Indian senior men's team, termed as team "Bangalore" and comprising Rajesh Uppar, Siddhant Shinde, Jeevanantham Pandi and Basil Philip, few out to Beijing last night.
A second team, of youngsters Kushmeet Atwal, Arshpreet Bhullar, Arshdeep Dhillon and Rajveer Singh (all from Punjab's Ludhiana Basketball Academy), has also qualified for the event (as team "Chandigarh") after winning a national 3×3 event organised by the National Basketball Association in India (called NBA "Jam") in December 2014.
The Bangalore team is seeded 9th and placed in Pool A with Novisad Alwahda (UAE) and Zheng Zhou (China). The Chandigarh team is seeded 12th and placed in Pool D with Tokyo (Japan) and Wukesong (China).
About Beijing Masters
The third stage of the 2015 FIBA 3×3 World Tour will be held in Beijing China on 15-16 August 2015. The twelve best teams from the qualifiers held in the Beijing catchment area compete for two days for the pride to represent their city, a USD 10,000 cheque and a chance (for the two finalists) to qualify for the FIBA 3×3 World Tour Final in Abu Dhabi on 15-16 October 2015.
The 12 teams are divided into four pools of three teams playing in a round-robin first round against their two respective pool opponents. The top-two placed teams from each pool advance to a standard knock-out round which starts at the quarter-finals stage. The two best teams qualify for the FIBA 3×3 World Tour Final, which will be staged in Abu Dhabi on 15-16 October 2015. Apart from this main event, a dunk contest and a three-point shootout contest will also be held.  Read more: http://www.fiba.com/3x3wt/2015/beijing/competition-format
INDIAN TEAMS FOR THE 3×3 SABA QUALIFIERS 2015
Team Bangalore
| | | | | | |
| --- | --- | --- | --- | --- | --- |
| SL NO. | NAME | POSITION* | JERSEY NO. | DATE OF BIRTH | PLACE OF BIRTH |
| 1. | Basil Philip | SG/SF | 12 | 10/01/1991 | Sulthanbathery, Kerala |
| 2. | Rajesh Uppar | PG | 4 | 20/01/1991 | Dharwad, Karnataka |
| 3. | Siddhant Shinde | PG/SG | 9 | 15/06/1991 | Pune, Maharashtra |
| 4. | Jeevanantham Pandi | PF/C | 10 | 13/10/1994 | Virudhunagar, Tamil Nadu |
*C= Centre, PF= Power Forward, SF= Small Forward, SG= Shooting Guard, PG= Point Guard
Team Chandigarh
| | | |
| --- | --- | --- |
| SL NO. | NAME | DATE OF BIRTH |
| 1. | Kushmeet Atwal | 24/04/1995 |
| 2. | Arshpreet Bhullar | 01/10/1996 |
| 3. | Arshdeep Dhillon | 02/12/1995 |
| 4. | Rajveer Singh | 24/10/1995 |
Schedule for India's league games
15th August
17:10 local time (14:40 IST): Chandigarh vs Tokyo (Pool D)
17:30 local time (15:00 IST): Bangalore vs Zheng Zhou (Pool A)
19:00 local time (16:30 IST): Bangalore vs Novisad Alwahda (Pool A)
20:30 local time (18:00 IST): Chandigarh vs Wukesong (Pool D)
About the FIBA 3×3 World Tour
The FIBA 3×3 World Tour is the pinnacle event of an ';open'; network of FIBA-endorsed 3×3 tournaments. Any group of four players – regardless of their nationality and representing a city – can qualify for the FIBA 3×3 World Tour by taking part in a lower level/regional tournament, eventually making their way to the world stage.
The FIBA 3×3 World Tour was first launched in 2012. The former winners are San Juan (PUR, 2012), Brezovica (SLO, 2013) and Novi Sad (SRB, 2014).
It consists of six Masters tournaments, before culminating with the FIBA 3×3 World Tour Final. The schedule of the 2015 edition is the following:
Manila Masters, Philippines – 1-2 August
Prague Masters, Czech Republic – 8-9 August
Beijing Masters, China – 15-16 August
Lausanne Masters, Switzerland – 28-29 August
Mexico DF Masters, Mexico – 9-10 September
Rio de Janeiro Masters, Brazil – 26-27 September
3×3 World Tour Final, Abu Dhabi, UAE -15-16 October
The FIBA 3×3 World Tour events are true urban culture festivals, organised in the heart of the cities against the most iconic landmarks and feature non-stop music and MCs calling the games, professional dunkers, breakdancers and other street artists. They are in line with FIBA';s "3×3 for everyone philosophy" as spectators and passers-by are invited to participate in 3×3 games and activities.
Read more: http://www.fiba.com/3x3WT/2015/manila/about-world-tour
About 3×3 Basketball- Basic Rules
Four members per team. Three active players on court at all times, with one rolling substitute.
Played using only one half of a traditional basketball court.
Scoring:
o   Traditional three point shots from behind the arc will be awarded 2 points
o   Every shot inside the arc is awarded 1 point.
o   Every successful freethrow is awarded 1 point.
Match duration: 10 minutes (with stoppages for dead ball situations and freethrows)
The team which scores 21 points or more within the match duration, wins the game. If neither team is able to reach 21 points, then the team with the higher points after the conclusion of 10 minutes is declared the winner.
If the scores are tied, then an extra period of time is played. Here the first team to score 2 points in overtime wins the game.
Each offensive possession will be for 12 seconds only.
Following each successful field goal or made free throw, a player from the non-scoring team will resume the game by dribbling or passing the ball from inside the court directly underneath the basket (not from behind the end line) to a place on the court behind the arc.
If the defensive team steals or blocks the ball, it must return the ball behind the arc (by passing or dribbling).
National HRD Network takes forward PM's Skill India Initiative
A national seminar planned on 'Skilling Young India for Global Leadership'
Focus of the Seminar:
·       Developing the infrastructure and ecosystem to motivate Indian youth
·       Shaping Indian human resource capital for global demand
·       Role of Education Institutions and Industry to nurture, hire and retain young India
Jaipur, 14th August, 2015:  National Apex body of professionals committed to promoting the HRD movement in the country, National HRD Network is all set to hold a seminar on 'Skilling Young India for Global Leadership' in Jaipur. Bringing forward the call of PM Shri Narendra Modi's 'Kaushal Bharat, Kushal Bharat' initiative, NHRDN has partnered with CII, FICCI, Jaipuria Institute of Management and Manipal University in Jaipur to understand and generate best ideas that can help shaping Indian human resource capital to take global leadership.
This seminar will start 6.45 pm onwards on 18th August, 2015 at Hotel Marriott, Jaipur. Padma Bhushan Prof. Vijay Shankar Vyas, will be chairing the seminar with two eminent guest speakers, Mr. K Ramkumar, National President of NHRDN and Mr. Sharad Jaipuria, Chairman of Jaipuria Institute of Management. For driving a healthy and fruitful discussion, a blend of discussants representing varied bodies like CII, FICCI, Manipal University, Suresh Gyan Vihar University will share their thoughts in a panel discussion with the audience.
Prof. Ashok Bapna, President, NHRDN – Jaipur Chapter, says, "India's vast youth, that shall constitute 64% of the Indian population by 2025, will be the reason for Indian's global partnership and growth. The nation will soon have the largest youth population in the world. All youth have aspirations and dreams- dreams of a good life, great career, successful business etc. For shaping this Indian human resource capital for global demand, all the educational institutions and industry should come forward and should play a key role in succeeding Skill India initiative. "
Under the PM's ambitious project 'Skill India, Successful India', government aims to train over 40 crore people in India in different skills by 2022. National HRD Network is making valuable efforts to support this initiative by creating a thought leadership amongst key partners like education institutions and industry.
Oil prices skid to fresh lows in Asian trade
Oil prices extended losses in Asia on Wednesday as dealers worried about China´s economy following its surprise currency devaluation, while oversupply concerns also added to downward pressure, analysts said.
US benchmark West Texas Intermediate (WTI) for September delivery fell five cents to $43.03 while Brent crude for September slipped 35 cents to $48.83 in late-morning trade.
WTI on Tuesday sank to its lowest level since March 2009, while Brent also fell in London, after China´s central bank moved to devalue its currency by nearly two percent against the US dollar.
The People´s Bank of China again lowered the daily fix that sets the value of the Chinese currency against the greenback on Wednesday by 1.62 percent, sending a new shockwave through financial markets.
"The Chinese yuan continues to weaken for the second day, which could suggest further weakening of oil prices," said Daniel Ang, an investment analyst at Phillip Futures in Singapore.
Investors fear Beijing´s move signalled concerns over growth in the world´s second-largest economy and top energy consumer, which came after data published over the weekend showed a slump in Chinese trade.
It also pushed up the greenback, which strengthened further against Asian currencies on Wednesday, which hurts dollar-denominated commodity prices by making them more expensive for international buyers.
Ang said prices were also under pressure after the Organization of the Petroleum Exporting Countries (OPEC) said output in July rose by 100,700 barrels per day from the previous month to 31.5 million barrels per day.
"An increase in OPEC production is certainly not ideal for the oversupplied market at this point in time," Ang said.
The producer cartel´s refusal to cut its output level despite sagging demand is seen as a reason for a prolonged global oversupply, which has seen prices fall to almost a third of their mid-2014 peak.
Analysts have said the move is an attempt by the cartel´s kingpin Saudi Arabia to defend its market share as it fends off competition from US shale oil.
Dealers will next focus on US crude stockpiles data to be released on Wednesday for clues on demand in the world´s top crude consumer, Ang said.
THE MONSOON SESSION – IS IT INDIA'S LOSS?
The scheduled Monsoon Session of Parliament has concluded today. Politically, this session was very educative but, frustrating. Parliament represents the best in Indian democracy. 'Parliamentary paralysis without an issue' signifies the vulnerability of the system.
The importance of GST need not be overstated. It converts the whole country into one economic market. It facilitates the smooth and seamless transfer of goods and servic
es. It reduces harassment and corruption. It mandates a uniform tax regime. It eliminates 'Tax on Tax'. It adds buoyancy to tax revenue and has a favourable impact on the GDP. The GST has received consistent support from most mainstream parties. The Congress / UPA government announced this idea in 2006 and it introduced the Bill in 2011. Today, it seeks to go back on the GST. The objections in the Congress Party's dissent note are contradictory and trivial. The Parliamentary numbers are loaded against the Congress. It, therefore, relies on disturbance and lung power to prevent its consideration by the Rajya Sabha. The Congress is well aware that any delay in passage of the Constitution Amendment which has been accepted by most States will result in at least one year's delay. That appears to be the Congress' strategy. National interest is least on its priority.
The Congress party has exhibited that it continues to be enslaved to a family. It is willing to compromise national interest and policy merely because the family is unable to digest its electoral defeat in 2014. India's loss in this Session is not Congress party's gain. There is popular disapproval of its policies of 'disruption without a cause'. The debate in Lok Sabha yesterday clearly demonstrated the hollowness of Congress party's argument.
The Congress party President, Smt. Sonia Gandhi, hit a new low. It is for the first time that a senior-most leader of a mainstream party has jumped into the well of the House. Even the pretext of stature and dignity was not maintained. As for Shri Rahul Gandhi, there was no serious expectation that he would raise the level of the debate. He has failed to recognise the difference between sloganeering and a Parliamentary speech. The more he grows, the more he immatures. Aggressive body language is never a substitute for substance. It is the NDA Government which brought a tough law against illegal foreign assets. It is the NDA Government which is taking effective steps to bring to book the alleged offender around whom the present controversy is centred.
This Session has educated and enlightened public opinion that India's economic interests are being held to ransom by the political frustration of the Congress party. India stands educated, though frustrated. The anger emerging out of this frustration will provide India the answer to face this challenge.
Two blasts shook the northeastern Chinese city of Tianjin late on Wednesday. Some 700 people have been injured, 71 critically, and 50 are dead, according to the latest report by Xinhua news agency.Many of the injuries being treated at the hospital are from broken glass or stones, Lu Yun, head of the nearby Taida Hospital, told the Xinhua News Agency.
A total of 12 firefighters have been confirmed dead, according to Chinese state television. Authorities have lost contact with 36 other firefighters, Xinhua reported.The blast had erupted from a shipment of explosives in a key industrial zone in Binhai New Area at about 11:30 pm local time (3:30 pm GMT), state broadcaster China Central Television said. The initial blast triggered a suspected petrol explosion in an adjacent reservoir.
U MUMBA BEAT BENGALURU BULLS TO RECLAIM TOP SPOT August 12:Captain Anup Kumar has a cool head and he proved it yet again by marshalling his resources in an astute manner to lead U Mumba to a 36-29 over hosts Bengaluru Bulls in Season 2 of Star Sports Pro Kabaddi today. At the Kanteerava Stadium it was the Mumbai defence which played a major role in their creditable win with Anup prodding his hit men.
The first half saw Mohit Chhillar and Surender Nada trap their rivals' star raider Ajay Thakur as many as four times. And if one sees it in the context of the match then Bengaluru captain Manjeet Chillar, being on the bench for close to 18 minutes, harmed them a lot.
The result has allowed U Mumba to reclaim the top spot with 50 points. Bengaluru who are still in the hunt for a semis berth have 32 points. They just about managed to squeeze one today by reducing the margin of defeat to seven. They thus displaced Jaipur Pink Panthers to occupy the third spot. Manjeet Chhillar who took upon himself the onus of raiding should be credited for that. He collected five points towards the end despite losing two to a super tackle.
Mumba after being in front saw their rivals equalise at 7-7, but once Rajesh Mondal, Ajay Thakur and Pradeep Narwal were trapped one after the other Bengaluru had to soon face an all-out in the 17th minute of play. Mumba received a minor setback when Bhupinder Singh had to be stretchered off but the brave youngster returned in the second half. The winners led 18-13 at half-time.
Anup continued his raids which were more tactical.
U Mumba preferred to rely on their defence in the second half. Substitute D Sureshu too served them well. He filled in well for Bhupender by scoring two raiding points and also aiding in defence. Rishank Devadiga also contributed his might with four points. To Mumba's advantage Ajay Thakur failed to get any momentum. Pradeep Narwal and substitute Rakesh Narwal too failed to prop the Bengaluru attack. And once rival Jeeva Kumar who was subdued for some time started getting his ankle and thigh holds right to net six points Bengaluru's defeat was imminent.
U Mumba never looked back thereafter as they went from strength to strength to inflict the second all-out to lead 34-22 with about six minutes left. Manjeet tried his best but that proved inadequate in the end. The Bulls face Jaipur Pink Panthers tomorrow and this will be a crucial tie for both as a win will bring one of them closer to their goal.
Captain Anup Kumar was as cool as ever after yet another victory for U Mumba. "I have heard that people think we are the toughest competition in the league and I am proud of this team which is called the toughest competition. Our job is to come out and be our best and play our best – that's what we are doing here. And I am happy with the team because of that. We have a strong defence and that is an amazing thing. But it is better because we have a strong team and that is what makes a great team."
This win was the icing on top of the cake for U Mumba who have already qualified for the play-offs. "I am grateful for having qualified for the play-offs. We need to keep our heads down and keep working hard." said Anup Kumar.
MATCH 43 – BENGALURU BULLS VS U MUMBA
| | | |
| --- | --- | --- |
| No. | Award | Player/Team |
| 1 | TVS BEST RAIDER OF THE MATCH | RISHANK DEVADIGA (U MUMBA) |
| 2 | BAJAJ ELECTRICAL INSPIRING DEFENDER OF THE MATCH | MOHIT CHHILLAR (U MUMBA) |
| 3 | BENGALURU BULLS MOMENT OF THE MATCH | BHUPENDER SINGH (U MUMBA) |
| 4 | VIP FRENCHIE BIG IMPRESSION PLAYER OF THE MATCH | SURENDER NADA (U MUMBA) |
| 5 | FLIPKART AUDIENCE KI WISH PLAYER OF THE MATCH | AJAY THAKUR (BENGALURU BULLS) |
(additional photos attached)
Watch Season 2 of Star Sports Pro Kabaddi LIVE on Star Sports 2, 3, HD2, HD3 and hotstar.com from 7:50pm onwards
Star Sports Pro Kabaddi – Points Table after Match 43 as of 12th August
| | | | | | | |
| --- | --- | --- | --- | --- | --- | --- |
| POS | TEAM | PLAYED | WIN | DRAW | LOSS | POINTS |
| 1 | U MUMBA (Q) | 11 | 10 | 0 | 1 | 50 |
| 2 | TELUGU TITANS (Q) | 12 | 7 | 3 | 2 | 45 |
| 3 | BENGALURU BULLS | 10 | 6 | 0 | 4 | 32 |
| 4 | JAIPUR PINK PANTHERS | 11 | 5 | 1 | 5 | 31 |
| 5 | DABANG DELHI | 12 | 4 | 1 | 7 | 26 |
| 6 | PATNA PIRATES | 10 | 4 | 1 | 5 | 25 |
| 7 | BENGAL WARRIORS | 11 | 2 | 1 | 8 | 16 |
| 8 | PUNERI PALTAN | 9 | 1 | 1 | 7 | 13 |
—